Now that the restoration stage is pretty much complete we have to get serious about adding the things that will make our Defender usable for overland travel.   This involves planning for and procuring a whole range of systems (see separate Feb. 2012 post "Planning the Outfitting Stage")    Unfortunately, there is really nothing at all one can get in Ghana for this, nor do any of our internet suppliers include much expedition gear in their offerings.   We decided that the best way to deal with this is to go ourselves to South Africa to buy stuff   Our trip to South Africa  included the My Land Rover has a Soul Festival (see separate post "Woodstock for Landy Lovers") and a side trip to  Victoria Falls, as well as a few days exploring the amazing Blyde River Canyon in northeastern South Africa.  But the real purpose was shopping.
South Africa is arguably  the best source for expedition outfitting gear in the world.  There are many manufacturers and many more distributors.   We had seen some of this during our first visit to South Africa in 2010 (see Jan. 2011 post on Testing the Idea in South Africa) and were able to make a list of things we might want to pick up on a return visit.  We made that return visit in late February equipped with a list of about twenty items we needed and another list of a half dozen stores/suppliers to look at.  The latter ranged from big box  camping stores like Outdoor Warehouse to excellent 4×4 outfitting specialist stores like Front Runner 4×4 or Safari Centre, as well as suppliers of specialized items like solar power systems or awning canvas suppliers.  All the photos in this post are stock photos from the suppliers, our own stuff is still on a boat somewhere en route to Ghana.
Rooftop Tent:    Our experience renting an outfitted Defender introduced us to the concept of a hard floor canvas tent that bolts to a rooftop carrier. (see Jan. 4, 2011 post, Testing the Idea)  The roof rack that came with our Defender will accommodate this very nicely. There are a few tent products available from different places, ranging from South Africa, Italy, Australia, etc.  This is the largest, (heaviest) and most costly piece we need so we invested a fair bit of time looking at the available options.     After doing lots of research we  settled on the Eezi-Awn Jazz tent, a first-class quality and tested product of South Africa.  Weighing in at 55 kilos there is nothing like this really.  Erects quickly and easily via a ladder that comes out from underneath  the floor and fills our need quite nicely.  This is what we had for our earlier test run in South Africa trip and we loved it. Now we own one.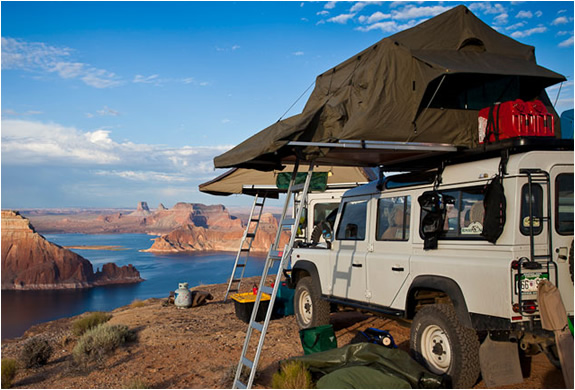 Storage Drawer System.  As we learned from our earlier rental, the design of the Defender cargo bay supports the installation of a flat floor between the wheel wells in the cargo bay which creates a 1′ high x2′  wide x 4 ' deep space and lends itself well to installing drawers that then open out the back when the cargo bay door is open.  Frontrunner 4×4  www.frontrunner.co.za  in Johannesburg produces a great drawer system using simple and affordable  "ammo" boxes.
In the Defender we rented from Bushlore it was this system that they used to carry all the kitchen gear and some other miscellaneous pieces.  We liked it so much we went back to Frontrunner and bought one.  There are other makers of 4×4 drawers but we did not see anything that was as cost-effective.  I was very surprised to see a review of drawer systems carried in the Winter 2012 issue of Overland Magazine did not even seem to acknowledge the existence of this South African product.  This is likely because of the American base of that magazine, but I think they missed the best product.
 Propane and Water Storage.    One  can buy jerry cans in Ghana but they are very expensive and they do not come with harnesses to mount them.  We looked at various floor and wheel well fuel and water storage systems that Frontrunner or others make for Defender but decided these were more that we needed or could organize for and opted instead to pick up stock water and propane tank  carriers designed to fit on the side and rear exterior walls of a Land Rover Defender.
Solar Power System:   After some on-line research we decided that back up power to help ease the draw on the vehicle battery when parked is a worthwhile investment.   Like so much to do with overlanding there is enough demand for this in South Africa to support a couple of specialist suppliers.  The one we visited was Bushpower http://www.bushpower.co.za  run out of the garage of a suburban house in Kyalami on the northern reaches of Johannesburg, only about two kilometres from the Frontrunner store and factory.   The panels and related wires and switches are all imported, mostly from Europe.  We purchased an 85 watt panel with mounting and cables, together with a dual battery monitoring system.
Lights:   The front headlights on our Defender are not the brightest I have seen and our comfort driving at night will be greatly facilitated by additional lights.  It is quite common for  4x4s  to be equipped with an extra set on the bumper or roof rack.  I had been looking at 70 watt  Lightforce from Australia but the only place I saw them they were very expensive relative to other quality options.  We opted for a product called KC, which I believe is an American company based in Arizona.   These were recommended by the Safari Centre store in Centurion which carries a range of very high quality 4×4 products. 
Because it gets dark at 6:00 PM here we also need to have an area light for meal prep and eating at night.    We happened to notice one type in particular on the backs of three Land Rovers in parking lots our first couple of days in Jo'burg and when we saw exactly the same light in Frontrunner we figured it must be good so we picked it up.
Canvas for Awning:   There are a number of roll-up awnings available in the market, including a range manufactured by Eezi-Awn tent producer.   There is value in having something to provide protection from the sun and rain, but the  manufactured awnings all seem expensive and require quite a bulky, heavy case that mounts permanently to the side of the vehicle.   I came up with our own awning design (see separate Awning Made to Measure post for details) for which we needed some material.   We thought of this when we saw a store that sells awnings for windows and decks and went in to have a look. As it turned out they did not sell material itself, but the helpful woman in the store referred us to a place called Home Hyper City near Pretoria, where she said we should see Uncle Joe.   The store was the largest fabric store we have ever seen two floors the size of a football field, really incredible. We found Uncle Joe and explained what we were looking for to which he replied "oh, for your baakie?"  A baakie is the term South Africans use to refer to what North-Americans know as pick-up trucks,  but the term can also be used to refer to any 4×4.  He led us to a row where they had a range of weights and colours of canvas and we picked up a couple of metres of canvas in two colours that will look good together and complement our own "baakie" quite  nicely.
Miscellaneous:  We bought a few things that were not on our list to supplement the miscellaneous items we had purchase in December 2010.    A funnel, speaker wire, fastening straps, an ammo box for the roof with a water proof cover to hold sundry items like souvenirs purchased along the way, silicone spray for the awning, etc.  When the shipment finally arrives in Accra we will no doubt be pleasantly surprised by things we have forgotten we purchased.  It will be like Christmas, hopefully it won't take that long to get the stuff!
By the time we were done we were glad we had bought the fridge and other outfitting gear the first time we came to South Africa from Ghana because after 3 days of nothing but shopping we had run out of time and had to go back to Ghana.  The purchase of  all these items came in the last few intense days of our time in Johannesburg, after our trip to Victoria Falls and the Blyde River Canyon.  The most difficult part was arranging shipping.  We had started the process weeks before we left Ghana through a company that brings things in to Ghana from South Africa and this led to a recommendation to rent partial space in a container to be sent by sea as an inexpensive option.  It was indeed a very affordable option, unfortunately the Jo-burg forwarder we had been referred to turned out to be non-responsive and we had to go back to the original contact to try to get their attention and this led to referral to another forwarder. They turned out to be much more responsive, but it all took awhile to arrange and it not until our last couple of days in Jo-burg we had settled with them.  We had to impose upon the Safari Centre 4×4 store in Centurion (between Johannesburg and Pretoria) where we bought the tent, second battery, lights and other accessories to hold all our things, not just what we bought there, but everything from all the suppliers, until the forwarder could come by to get it.  They agreed to do so, and we delivered all our other sundry items to them the day before we left,on the understanding that the forwarder (Synergy) would retrieve it in the next couple of days.  It actually took Synergy more than two weeks to get around to picking the stuff up, which also meant they missed the sailing of the boat they had initially said we could use.  Thanks very much to the Centurion Safari Centre for helping us out in a jam.
Now we are waiting to get our things to Ghana.