After Ougadougou we headed toward western Burkina.   We had an overnight bush stop near Boromo, where we were treated to some good off-roading in search of a campement which we eventually gave up on for fear of getting trapped by more rain and instead retreated to stay closer to the main road.  Next was Bobo -Diaoulasso, Burkina's third largest city to see the spectacular mud mosque.
Islam is a very important religion throughout much of Africa and this phenomenon is well-represented in  West Africa.   The faith was brought here by traders crossing the Sahara a thousand years ago, Timbuctou was a center of muslim acadenia and scholarship hundreds of years ago.  Today significant portions of the populations of most West African countries are muslim, in Burkina Faso it is about 40% of the population. Every village has at least one mosque, they are certainly the most common religious structure and call to prayer is resounds through the streets.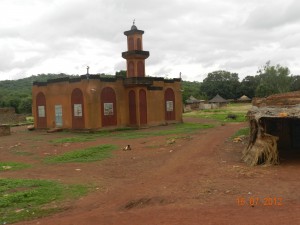 One of the great architectural manifestations Islam in West Africa is the unique mud mosques that are present throughout the Sahel.  Built only from mud, they are also identified by the pieces of wood, usually tree branches, that stick out  from the sides.  Contrary to first impressions, these pieces of wood do not serve any structural purpose, rather they are intended to serve as a permanent scaffolding to provide easy access for replastering and painting work which has to be done every year.
We went to Bobo-Diaoulasso in western Burkina Faso to see one of the larger examples.  Built in the 1840s it has some 56 mud pillars that are "towers" that provide support for the roof over the prayer area inside.   Each of these pillars is about 4' by 4' and they easily take up a quarter of the interior floor area.  That means it does not have a large open hall that is characteristic of other mosques.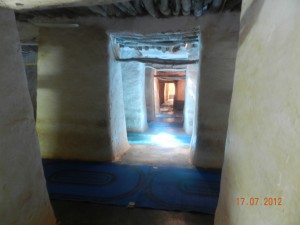 Below are some shots of the smaller mud mosque at Nakori in northern Ghana we visited on another occasion.
Our first night in Bobo was at a place called Casafrica, which had little to recommend it, and the worst washrooms we had seen.  We did like Bobo enough to give it a second night, but after one night in CasaAfrica we decided we needed a night in a hotel.  We found a great place called Toucouleurs, complete with TV, WiFI and a lovely pool.  It was real treat, much deserved after a couple of weeks of roughing it.
There is more to see in Bobo than the lovely mosque.  The city itself is very laid back and pleasant, with wide boulevards running from large traffic circles each with a sculpture.  It is a bit reminiscent of the work of Bernard Hausman in Paris and Washington, ironic given the relative poverty of the country.
We also toured the oldest section of the city which is like a small village almost separate from the city that surrounds it.  One pays a formal admission to enter with a guide who explains the different sections of the neighbourhood.  It is quite a masterful blend of history, contemporary life, and a working craft village.  There was one place where a craftsman made drums out of his house, another workshop where they worked with brass using the so-called "lost brass method", another where they made "bark-cloth" purses and bags, where the cotton or leather is coloured using dyes made from bark of different local trees.