Aspyrgi is a national park located in northern Iceland east of Lake Myvatn. It is actually the northern section of Vatnajökull National Park that runs from the glacier of the same name in the south almost all the way across the country. It is also the location of Dettifoss waterfall, the most powerful in Europe.
From Dettifoss we continued north to to find the campground in Aspyrgi Park. This one was lovely, much more reminiscent of Canadian campgrounds with lots of trees. It was as natural and uncrowded as any campground I had been in Iceland to that point (although later in the trip I visited others that were also very good). We arrived at the end of a long holdiday weekend and there were were lots of Icelandic families about. It was still staying light until close to midnight at that point and and we fell asleep listening to the sounds of children cavourting on the play structures well into the night. We decided to stay in Aspyrgi a second night to be able to enjoy some hiking in the area. When we returned to the campground the second night after our hike there were two significant changes: there were few other campers as the weekend was over and all the Icelanders had gone back to work; and the weather had taken quite a turn for the worst, with temperatures near 5 deg. Cel. and lots of wind and rain.
This was a really tough point in the trip, we were completely bowed by the cold, wet weather and the
morning of our second day at Aspyrgi was miserable. It had rained all night and it was still only about 5 degrees C. We both recognized we were at the end of our camping tether and that we would need to seek proper shelter. Everything we had was wet; fortunately the washroom building in the campground had an amazing "dryer" comprised of a big closet with a couple of blowers that circulated warm air through the multi-layered hanging system. We used that system, which I had never seen before, to dry not only our sleeping bags and clothes, but also the Eureka tent that Maurice was using.
After packing up we drove straight to Husavik, a town in a nearby bay known for great whalewatching but we were not in the market for whalewatching, we just wanted to get warm. We went to the first hotel we could find only to learn that it was full, but the receptionist took pity on us (we were pretty pitiful at that point) and referred us to a friend who operated a guesthouse. It turned out to be a great spot. A large, quite recently constructed house with several sleeping rooms and a large, well-equipped shared kitchen. Maurice and I arrived mid-afternoon (it was still raining hard) before anyone else and had the run of the kitchen. We used just about every burner on the stove to create a wonderful dinner that featured a great lamb stew. After a couple of weeks of camping in occasionally very adverse conditions it was a luxury to enjoy ourselves out of the cold wind and rain. I really needed that.
We were now approaching the end of Maurice's explorations of Iceland, as he had to catch his plane out of Akureyri in a couple of days. On our way back to Akureyri we stopped at another incredible waterfall, Godafoss.
When we got to Akureyri the weather was still iffy enough and we were still not quite fully recovered from our last camping outing so we decided to pass on the campground we had used on the way out and instead went to a real hotel. The Hotel Edda is an Icelandic chain of simple, yet very clean and comfortable dorm style accommodations that grew out of a practice that developed in Iceland in the 1950s of converting student dorms to summer accommodation for the then emerging domestic tourist industry. www.https://www.hoteledda.is/en/hotels/hotel-edda-akureyri Of course no sooner had we settled in and the weather immediately improved, which allowed us to spend our last free day before Maurice left drying out our gear, specifically the rooftop tent and mattress, and doing some small repairs on the Defender.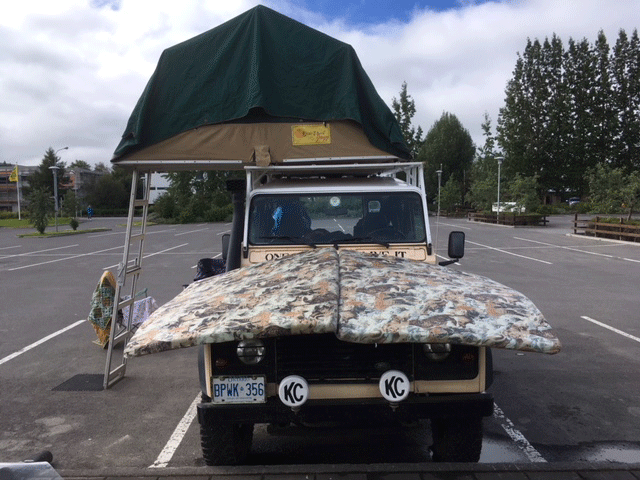 It was tough bidding farewell to Maurice, who had been there from the very beginning to help get everything organized and ready to go. Now I would be on my own for a few days as I continued to make my way east towards Eglisstadir to pick up Stephen, the next joiner.