Akureyri, the 'Capital of the North' and Iceland's second largest city, is quite a pleasant spot to visit. The Hof Culture House (pictured above) is a theatre, gift shop and art gallery and the site of various events.
Set along the water at the head of a fjord, the town features some lovely residential streets and has a number of interesting museums, including separate museums devoted to Aviation, Industry, Toys, Motorcycles and Culture. I particularly enjoyed the latter, which provided a great overview of Icelandic residential architecture from its 'functionalism' roots.
Like in Reykjavik the campground was located right in town next door to the municipal pool. The campground was rather crowded so we slipped over to the pool to check out it out. This was a great facility, with one large swimming pool and a number of smaller sitting pools of varying temperatures, even a steam bath. There were lounge chairs and although it was early evening the sun was still high enough to make it possible to enjoy some solar warmth. It was a family facililty with lots of things for kids, including a range of water slide options.
It was at the reception here I learned that a number of people were coming to the region to attend the 'Fish Festival' ("it might be a bit crowded tonight" and it was). The festival was taking place the next day in Dalvik, about 30 km up the fjord north of Akureyri. Not one to pass up a local festival that is how I spent my first solo day in Iceland after Maurice left. As the late morning traffic along the two lane paved road along the fjord leading to Dalvik became bumper to bumper and slowed to a crawl 4 km short of the "village" I realized this was a big event and that parking was going to be a real issue. When I got within walking distance I just put the Defender in 4WD and pulled off the road into the ditch. No one seemed to mind, there were cars everywhere. As I walked the kilometre or so into town I could see that many people had decorated their properties for the occasion with a fish theme, and many had rented space to RVs, tightly squeezed into peoples yards.
There were thousands of people from all over Iceland with a few international tourists mixed in. As they reached the large open space of what appeared to be a fish plant people joined any one of a 1/2 dozen lines to get free helpings of arctic char and cod hot off the barbie. The lines got shorter as the day wore on and the fish kept coming – I ate more arctic char in that single day, all for free, than I have in my whole life.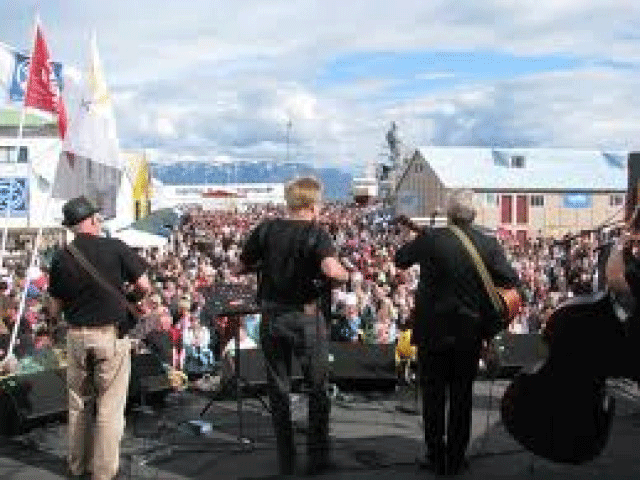 After our first visit to Akureyri Maurice and I first headed back into the highlands